ISO 9001
what is ISO 9001?
ISO 9000 is a family of standards for quality management systems. ISO 9000 is maintained by ISO, the International Organisation for Standardisation and is administered by accreditation and certification bodies. The rules are updated, as the requirements motivate changes over time.
ISO 9001:2015 sets out the criteria for a quality management system and is the standard in the family that can be certified to (although this is not a requirement). It can be used by any organisation, large or small, regardless of its field of activity. It is implemented by over a million companies and organisations in over 170 countries. [Source: ISO.org]
The object of the ISO 9001:2015 standard is to provide Quality Management Systems that will be of real benefit to your organisation, & to help manage your business effectively by applying best practice methodology. Any organisation can benefit from implementing ISO 9001:2015 as its requirements are underpinned by the seven fundamental management principles: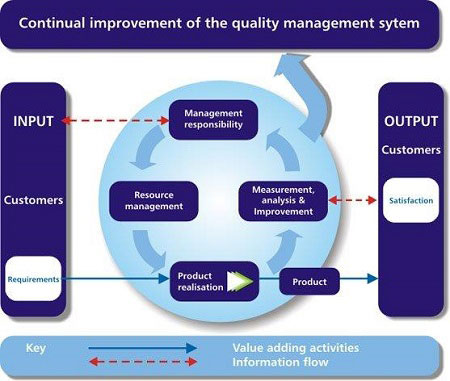 A customer focused organisation
Leadership
The engagement of people
Process approach
Improvement
Evidence based decision making
Relationship management
Benefits of ISO 9001 Certification
Customer satisfaction - through delivery of products that consistently meet customer requirements
Reduced operating costs - through continual improvement of processes and resulting operational efficiencies
Improved stakeholder relationships - including staff, customers and suppliers
Legal compliance - by understanding how statutory and regulatory requirements impact on the organisation and its / your customers
Improved risk management - through greater consistency and traceability of products and services
Proven business credentials - through independent verification against recognised standards
Ability to win more business - particularly where procurement specifications require certification as a condition to supply
In simple terms - You do "exactly what it says on the tin!"